Remote Learning
Updated 7th January 2021
Executive guidance to schools has changed
Remote learning via Google Classroom will take place for ALL students from Years 8-14, starting Thursday 7 January 2021
If you do not have internet or computer access, you must contact the school office on Thursday 7 January 2021 (028 9077 4202)
Paper copies of Learning Packs are available for Year 8 and 9 students who have no access to ICT equipment or the internet. You must contact the school office no later than 12pm on Thursday 7 January 2021 if you require a pack.
Paper copies will only be printed for those students who have made a request by contacting the school office
Paper copies of Year 8 and Year 9 Learning Packs will be available for collection from 11am – 1pm on Monday 11 January 2021 in our school canteen. Only one member of a household is permitted in the school canteen. Face masks and social distancing guidelines must be adhered to on school grounds at all times.
If any student is having difficulty accessing Google Classroom, please visit https://www.hazelwoodcollege.co.uk/google-classroom-for-students/#content for information on how to log-on
If your child has forgotten their C2K password, please contact the College office and we will forward your child's details to our ICT technician who will contact you directly
Requests for supervised learning of vulnerable students and key workers must be made through the school office for the eligibility checks to be undertaken. Further information will be issued upon approval.
Hazelwood Integrated College would like to thank you all for your ongoing support, patience, and understanding.
Department of Education Guidelines
Hazelwood College follows and implements the advice and guidance surrounding Covid-19 which is issued regularly from the Public Health Authority and the Department of Education.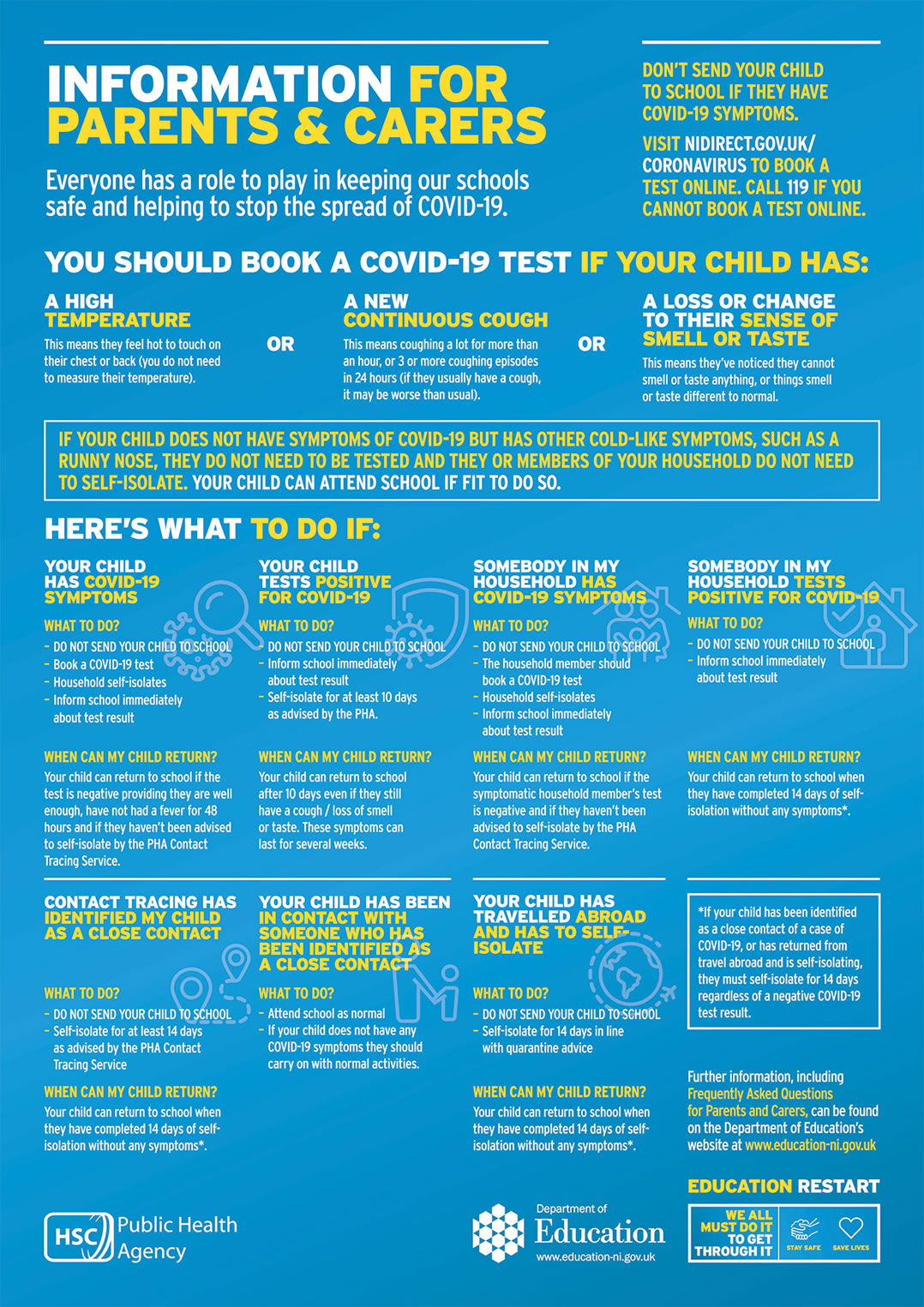 Public Health Agency Guidance
Click on the link below to access the PHA Guidance, helpline number and further information links.
https://www.publichealth.hscni.net/covid-19-coronavirus